General
December 19, 2019
2019: The Year of the People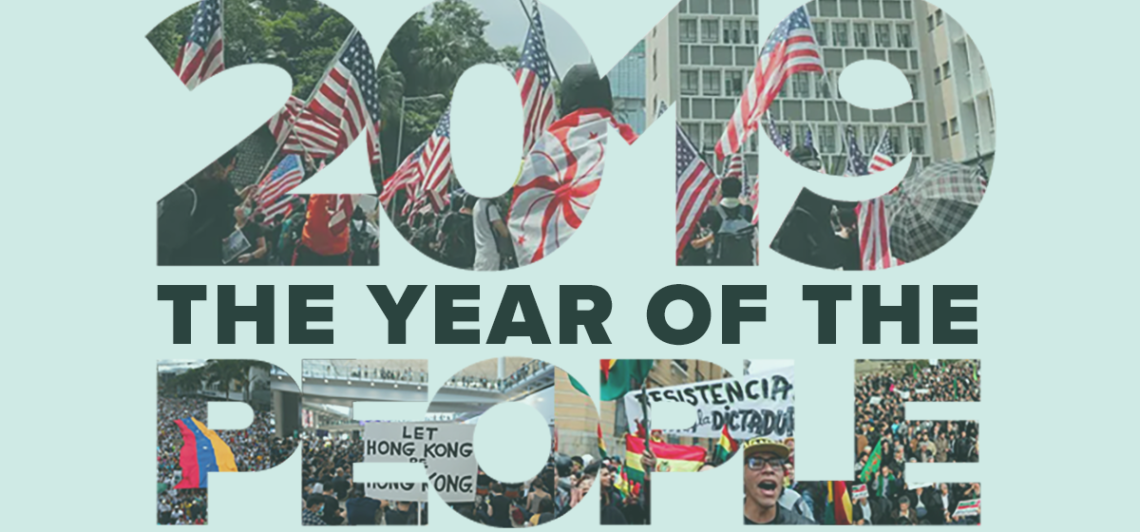 The end of a year is the perfect time to reflect on the past 12 months and learn some important lessons. Looking back on 2019, I want to highlight a particularly strong trend: The power of people using their voices to affect change.
Just last week, voters in the United Kingdom went to the polls and chose Boris Johnson in the largest victory that the conservative Tory Party has seen in decades. Johnson campaigned and won on getting Brexit done because that's exactly what the people voted for three and a half years ago in a 2016 referendum.
Boris Johnson's victory is the resounding endorsement of the will of the British people. This is how democracies are supposed to function: Voters express their will through the ballot box, and elected officials respect the outcome of those elections and referendums.
It's not just the United Kingdom. Across the globe, from Iran, to Hong Kong, to Bolivia, to Venezuela, people are using the power of their voices to hold governments accountable. In many of these cases, they are speaking out at great risk to their lives.
In Iran, as many as 1,000 people have been killed and thousands more were beaten and arrested in last month's protests. As Iran's economy flounders, Iranians braved the threat of a brutal crackdown to protest a sharp increase in fuel prices. For too long, the fanatical Iranian regime has focused on funding terrorism and sowing unrest in the Middle East instead of caring for its citizens. It is encouraging to see the Iranian people push back against their oppressive leaders to demand a better life.
In Hong Kong, over a million people have taken to the streets to oppose the oppressive Communist government of China. What started in June as a response to legislation that would have sent Hong Kong citizens to face unfair trials in China grew into a months long campaign to defend their basic freedoms. After Congress nearly unanimously passed the Hong Kong Human Rights and Democracy Act – a bill that punishes human rights violations against Hong Kong's citizens – the protestors celebrated by waving the American flag.
Just a few weeks ago, the people of Bolivia chased President Evo Morales out of office after he manipulated election results to avoid a run-off. Thousands of people took to the streets to reject his corruption and won, dumping another socialist dictatorship in Latin America.
In Venezuela, 2019 saw continued protests against Nicolás Maduro, the socialist dictator who plunged his once wealthy country into poverty and starvation and refuses to give up power. Venezuelans are rising up and demanding democratic elections even as Maduro and his thugs use violence and intimidation to silence them. The world should not turn away from the people of Venezuela in their fight for freedom.
Many of our politicians in America could learn something from these global events. The will of the people is a powerful thing. It should not be disrespected or ignored.
For three years now, our elected officials have ignored the will of the people who want to see Congress focus on solving real problems in our country, from our broken immigration system, to out-of-control medical costs, to our bloated federal budget. Instead, Congress has spent more time bickering and squabbling than working on solutions.
But like our British friends on the other side of the Atlantic have shown us, you can't deny the will of the people forever. Eventually, they demand to be heard.