American Culture
April 20, 2021
Amb. Haley China Is Our Foe 🇨🇳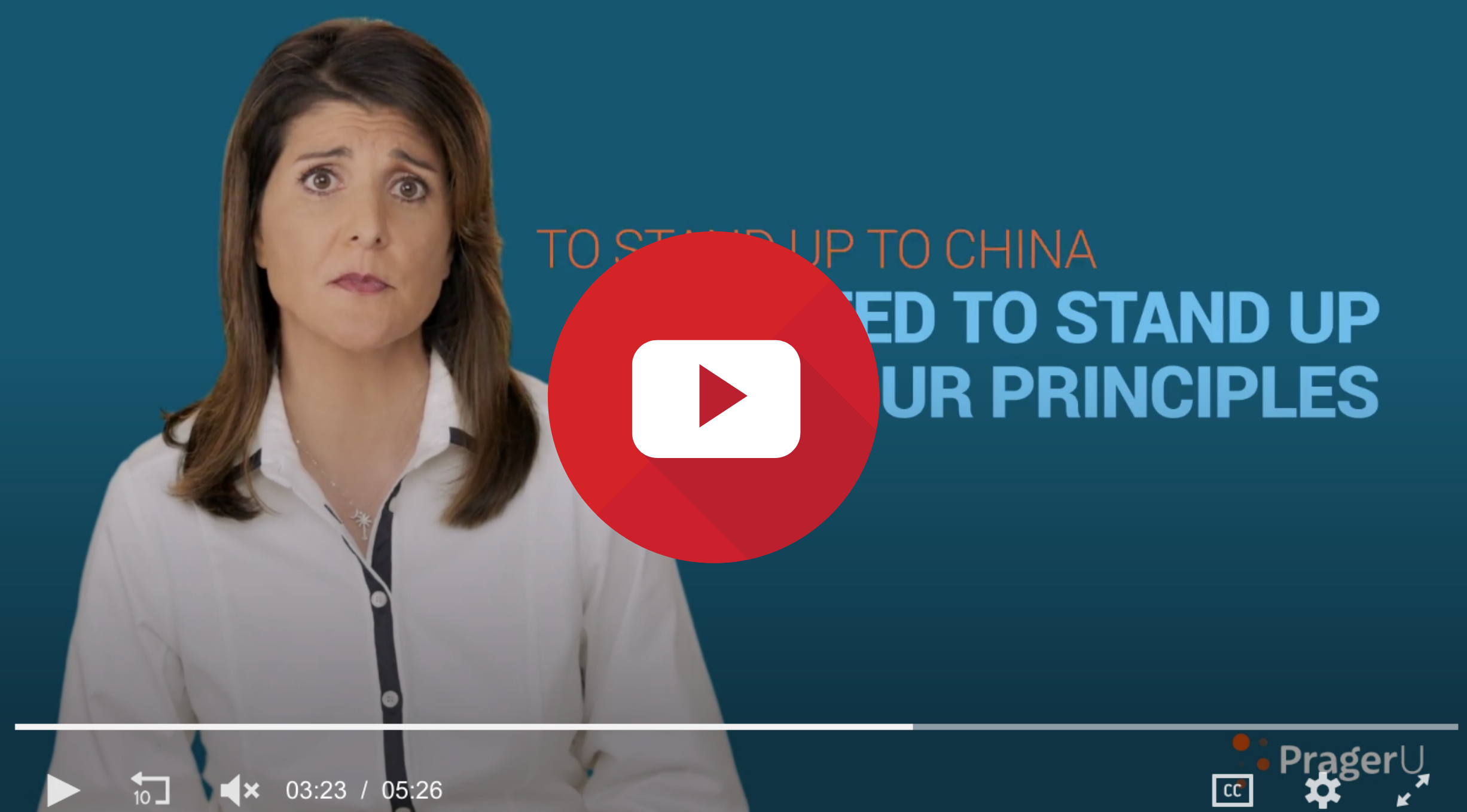 Amb. Haley has a warning for America: Communist China is our biggest global threat.

In her third PragerU video, she explains how Communist China's rise threatens freedom and safety for America and the whole world.
China's endgame is total world dominance. As Amb. Haley puts it, "China is using its growing economic clout to advance its authoritarian vision." Just look at the evidence: China's rulers oppress their own people, torture religious minorities, infect America's schools with communist spies, hoard life-saving medical supplies during a pandemic, and try to control international organizations like the United Nations.

America must keep China in check. As Amb. Haley says, "It's the right thing to do, and the smart thing to do." And it's the only way to secure a safe future for America.

→ Watch more: China: friend or foe? (Prager University)

→ Read more: We cannot let China set the standards for 21st century technologies (The Hill)
Government Overreach Gone Wild 🤜
For over a year, we've watched politicians use the pandemic to strip Americans of the freedom to live our daily lives. From shuttered churches to closed classrooms to barred businesses, overbearing government has hit a new level of alarming.
Now some officials don't seem to want to give up their newfound power. Case in point: health officials in Oregon want to impose mask and social distancing mandates indefinitely. This comes as unelected bureaucrats like Dr. Fauci still say those with vaccinations can't dine indoors and must keep their masks on.

The number one priority of our elected leaders should be liberating Americans from pandemic restrictions. Americans understand that a government that says "we don't trust you to make your own decisions" is a government that can't be trusted.

→ Watch more: Oregon considering extending COVID mask mandate indefinitely (Fox News)

→ Read more: 'It's still not ok': Fauci warns vaccinated Americans not to dine indoors (Daily Caller)