General
October 20, 2022
100% Chance Of Recession ☔️
Americans have already suffered a year of Bidenflation, fueled by trillions of dollars in new government spending. Sadly, there are signs that President Biden's policies are pushing America toward recession. link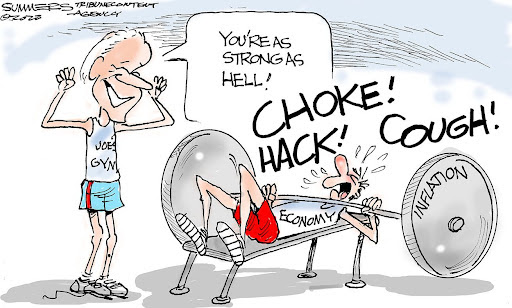 Source: Dana Summers (Tribune Content Agency)
A new report calculated the likelihood of the U.S. economy entering a recession within the next year: 100%. That should be the wakeup call that America needs to change course–fast. We must turn away from Biden's failed ideas for more government control of our economy and toward conservatives' plan to empower U.S. workers and businesses to grow it—including by lowering taxes, slashing red tape, and unleashing energy production here at home.
The American people have the power to save our country from an even worse economic crisis. That starts with embracing the conservative policies that we know can spark a national renewal.
→ Read more: Biden insists US economy is 'strong as hell' as he munches an ice cream cone (New York Post)
→Read more: Inflation is pushing half of Americans to consider second jobs (CBS News)
Liberals Can't Ignore Their Crime Crisis Anymore 🚓
It's no secret that the left's soft-on-crime approach is unleashing violence nationwide. Things are so bad that some liberals are finally acknowledging that their leaders are to blame.
This week, a former liberal official called out New York's Democratic Gov. Kathy Hochul for failing to tackle New York City's crime wave. As she put it, "there's a real disconnect" between politicians and the people they're supposed to serve when it comes to crime. She's right. Look at how Hochul and her allies refuse to address New York's failed bail laws—despite clear signs that they let violent criminals walk free and put innocent people in real danger.
We shouldn't have to hear about another mom or dad murdered on their way to work. Let's hope more liberals acknowledge the crisis they've caused, so we can finally enact real conservative solutions.
→ Read more: NYC crime crisis 'worse than the 90s' and politicians aren't moving to stop it, warns former NYPD inspector (Fox News)
→Read more: 'Descended into a city of chaos': CEO closes San Francisco store, scorches liberal city's lawlessness (Daily Wire)