American Culture
April 2, 2021
Nikki Haley Pushes Back On Liberals' Georgia Lies ✋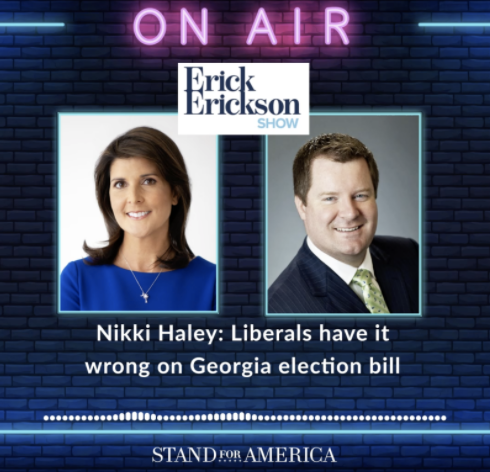 To paraphrase Ronald Reagan, "there they go again." Liberals have wildly distorted Georgia's recently passed Election Integrity Act as a "blatant attack" on voting rights. The truth is, the Georgia legislation protects elections from fraud and protects voting rights.

Nikki Haley set the record straight in a radio interview yesterday with Erick Erickson, saying "there's nothing that's disenfranchising" about Georgia's bill. 
Here are some of the facts. Contrary to President Biden's claim, the law actually gives voters more options to vote, not less (even the liberal Washington Post admits Biden is wrong). For example, Georgia now offers three weeks of early voting, including on weekends. Contrast that with liberal states like Massachusetts and New York that offer fewer days. Oh, and here's the kicker: Biden's home state of Delaware doesn't currently offer early voting at all, yet Joe Biden is calling Georgia's bill "an atrocity."

It's clear Democrats and big corporations aren't interested in the facts. They will twist reality and resort to blatant lies in order to serve a far-left agenda.

→ Listen to this: Nikki Haley on the Erick Erickson Show

→ Read more: Myth vs. fact: the Georgia election law (Heritage Action for America)
Happy Easter ✞ 🌻 
Hope. Many of us have clung to that word for many months. Now, this Easter weekend, as Christians celebrate the resurrection of Jesus Christ, renewed hope and happiness fill hearts and homes. 
​

No doubt, the past year has been a challenging one in many different ways. For people of faith, it has been especially difficult with places of worship being targeted and shut down, depriving people of the outlet they need most in times of hardship. But hope and faith have proven resilient. The world as we know it is starting to return to normal.

Our prayer this Easter is that families and friends gather to reflect, laugh, eat, and talk—together. From church services to Easter egg hunts, holiday traditions are meant to be communal and family activities. After a year of seeing simple freedoms stripped away, we should not take that for granted.

Springtime brings restoration, peace, and promise. We hope you and your family enjoy these blessings and many more during this holiday weekend.

→ Read more: 10 festive and fun ways to celebrate Easter at home this year (Better Homes and Gardens)