Israel
June 15, 2021
Nikki Haley: We Still Have Israel's Back 🇮🇱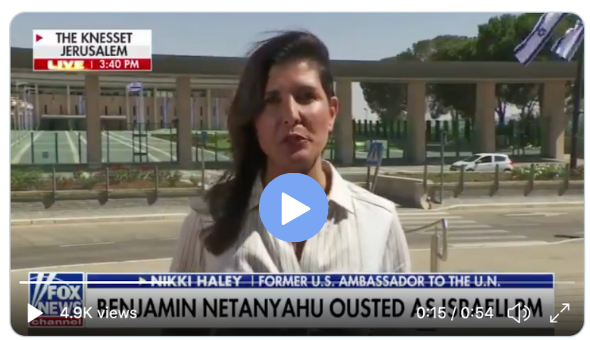 This week, Israel swore in a new leader for the first time in more than a decade. Amb. Nikki Haley joined Fox and Friends from Israel, where she met with Israeli officials on the ground. She offered her support for incoming Prime Minister Naftali Bennett and celebrated former Prime Minister Benjamin Netanyahu's commitment to defending Israel over the past 12 years.
Today, the Jewish State is safer, stronger, and more prosperous thanks to Bibi's resolve and his belief in an entrepreneurial private sector that has made Israel into an economic powerhouse. And Mr. Netanyahu made historic strides toward peace in the Middle East, including signing the Abraham Accords with four Arab nations.
As power transitions in the Jewish State, one thing should never change: U.S. support for Israel, a democratic ally and friend that shares our fundamental values.
→ Read more: The demonization of Benjamin Netanyahu (Wall Street Journal)
→ Read more: Netanyahu era ends in Israel as new government survives key parliament vote (NBC News)
WHO Failure: Phase 2 ✌️
You've heard the colloquial definition of "insanity:" doing the same thing again and again and expecting different results. Apparently, the G-7 leaders—including President Joe Biden—haven't. On Sunday, they called for the World Health Organization (WHO) to conduct a "Phase 2" investigation into COVID-19's origins. 
The UN body already proved it's not capable – or not willing – to get results. Its first "investigation" into COVID's origins was corrupted by Communist China's cover-ups and compromised by scientists who had a hand in funding the Wuhan lab now suspected of starting the virus. The WHO's initial report claiming a lab leak is "extremely unlikely" sounded strangely similar to China denouncing the lab-leak theory as "disinformation" and "absurd." No one should trust China or the WHO to be any more "transparent" the second time around.
The WHO lost all credibility when it became a Chinese puppet, and that's not going to change anytime soon. It's time for the G-7 leaders to wake up. A "Phase 2" WHO investigation would be a waste of time at best and another diversion from the truth at worst.
→ Read more: The Biden administration's investigation into COVID-19's origins misses half of the problem (Washington Examiner)
→ Read more: China 'cover-up' hampering investigation into COVID origin: top US general (Fox News)
​