Government spending
August 7, 2021
What We're Standing For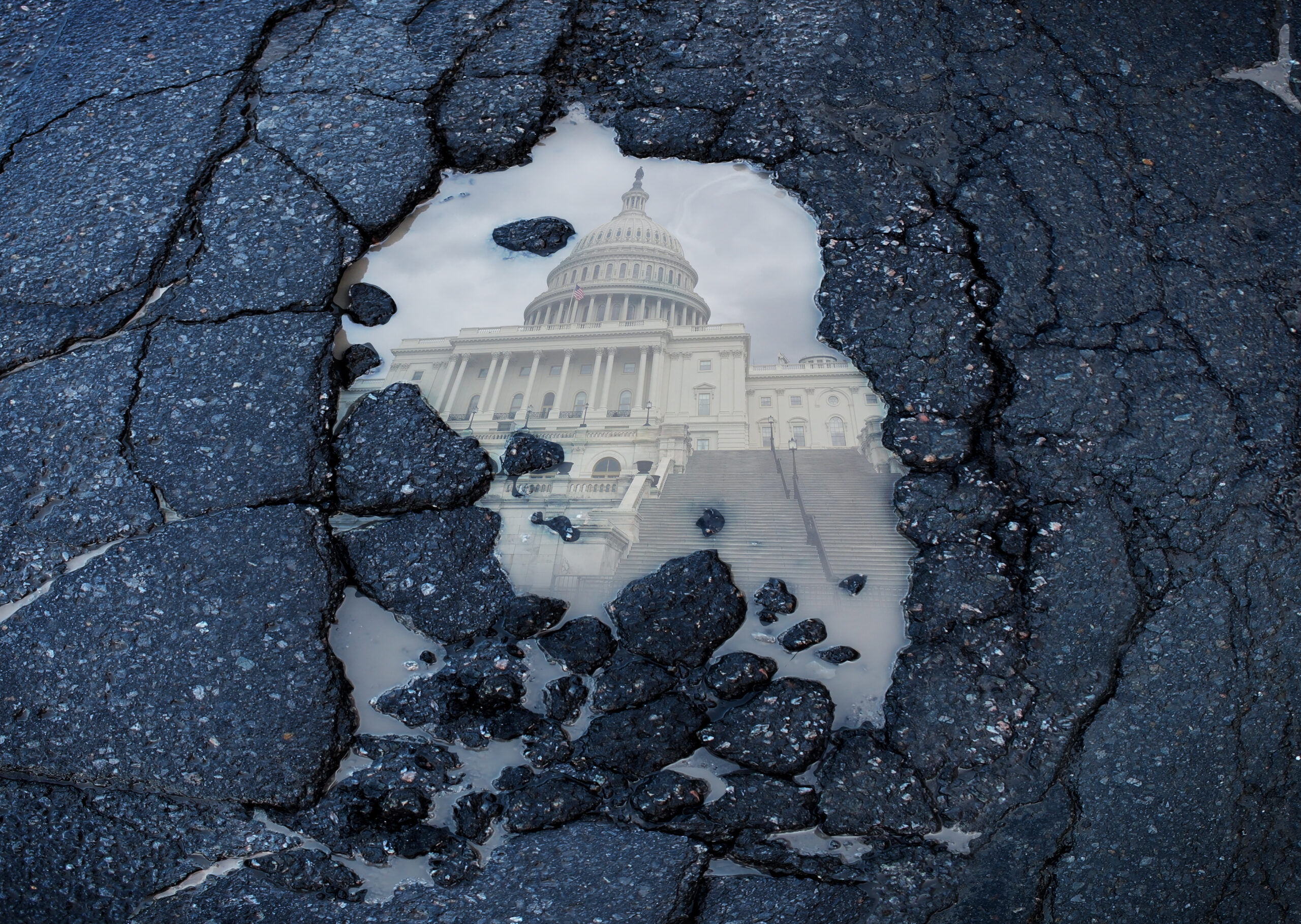 Common-sense infrastructure fixes
Quick summary: Congressional Democrats (and some Republicans) are set to pass a $1.2 trillion infrastructure bill this weekend. While the bill would fund some worthwhile projects, it's still too expensive and we need common-sense infrastructure fixes. And it points to a larger problem: Updating America's infrastructure already costs too much money and takes too much time. 
What's happening? The $1.2 trillion bill is so long (2,702 pages, to be exact) that most members probably haven't even read it. Some of the funding is for real infrastructure, such as $110 billion for roads and $15 billion to remove lead from water systems. But members couldn't resist filling the bill with plenty of wasteful pork and far-left wish-list items. The bill would fund Green New Deal priorities, including $7.5 billion for electric car chargers, $21.5 billion for a new "Office of Clean Energy Demonstrations," and billions more in corporate subsidies for the green energy industry.
Here are a few more examples: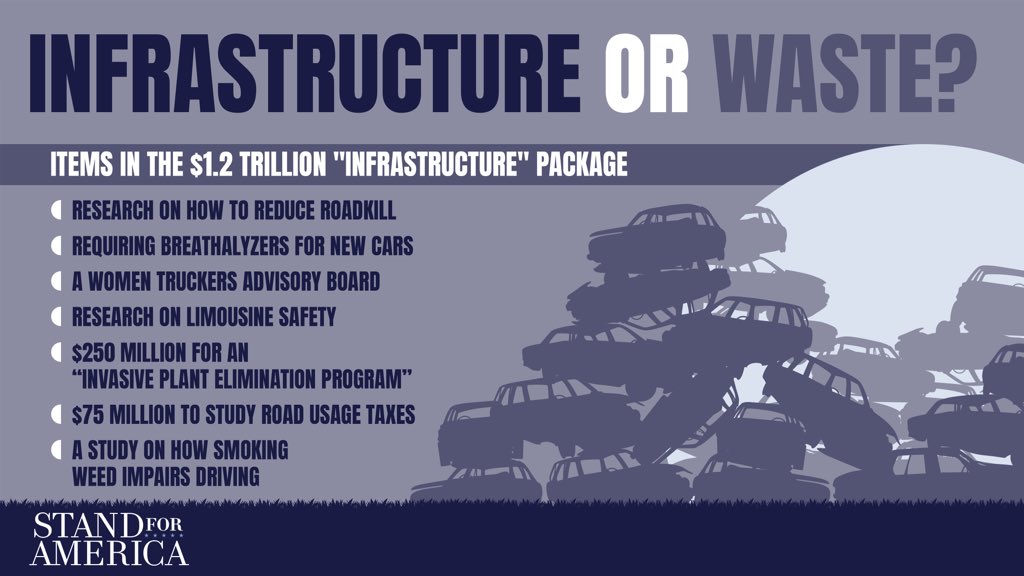 To add insult to injury, the bill's authors did nothing to address the underlying problems plaguing America's infrastructure system.
What's wrong with how we do infrastructure? Excessive government regulations slow down projects and hike up costs. For example, many infrastructure projects require the government to prepare a report, known as an Environmental Impact Statement (EIS), before construction can begin. On average, just one EIS takes the government four and a half years to complete. In Colorado, the government held hundreds of public meetings and spent 13 years writing a 15,951-page EIS before construction could start to fix a 50-year-old highway.
Then there's the cost: Bureaucratic delays on infrastructure improvements cost Americans an estimated $3.7 trillion. And they complicate the infrastructure process so much that companies have to hire lawyers just to help them navigate it. The more resources businesses spend on government paperwork, the less they can put toward creating jobs to actually build infrastructure.
And finally, quality: More government oversight hasn't done anything to improve America's infrastructure. In 2002, the U.S. ranked fifth in the world in infrastructure quality. As of 2019, our ranking had dropped to 13th. 
Has the government tried to fix this problem? The Trump administration cut many unnecessary regulations and reduced delays. GOP lawmakers have also proposed legislation to simplify and speed up the review process. This week, Sen. Mike Lee (R-UT) proposed an amendment to the infrastructure bill that would limit how much time the government can spend reviewing projects. But President Joe Biden wants to add more pro-union, pro-Green New Deal regulations. All these would do is slow down an already-snail-paced process.
Our take: Poor, outdated infrastructure hurts every American—from kids who take the bus to school, to workers who ride public transportation, to families who want clean water. America needs common-sense infrastructure with high-quality fixes, not more liberal pork. And as lawmakers prepare to funnel more taxpayer money toward infrastructure, they should fix the problems that set our infrastructure back rather than kick the can down the overpriced, overregulated road. 
→ Read more: 9 crazy examples of waste, unrelated pet projects snuck into massive bipartisan infrastructure bill (Foundation for Economic Freedom)
→ Read more: Regulatory reform is the key to unlocking infrastructure investments (Heritage Foundation)
A looming immigration nightmare
Quick summary: You've heard about how President Joe Biden's border crisis has overwhelmed cities, created new national security threats, and increased health risks. The facts, figures, and stories grow more alarming by the day. Bad liberal policies have set this crisis aflame. And now, Biden is considering reversing a Trump-era rule that would take the situation from terrible to even worse. 
What's happening? Border agents have made more than 1 million arrests at our border this year. Some migrants cross illegally, but many come in hopes of claiming "asylum."
What's the difference?
Illegal immigrants are people who cross (or attempt to cross) the U.S. border and live here undetected. They can be kicked out under our laws if they are caught.
Asylum seekers are people who show up on U.S. soil and ask to be let into the country. According to U.S. law, a migrant fleeing persecution for a number of reasons—racial, religious, political, national, or social—can qualify for asylum. Once migrants apply for asylum at the border, they typically get to stay in America and wait for their court case to be heard.
What's the problem? The asylum process is broken and incentivizes people to game the system. Most of the migrants who cross our border and apply for asylum don't fit the criteria to qualify, and their cases are typically rejected. However, because the system is backlogged with ever-growing numbers of applicants, it can take up to five years to reach a verdict for a single asylum claim. During those years of legal limbo, asylum seekers get to live and work in the U.S. on American taxpayers' dime.
What did President Trump do? First, he sent the message not to come to the border. He also put in place policies like "Remain in Mexico," which changed the process so asylum seekers can't come to America until their court case is heard. Then last year, when the pandemic started, Trump invoked a rule—Title 42—that turns away asylum seekers at our border because of the health risk. Since Title 42 has been in effect, U.S. authorities have turned away more than one million would-be asylum seekers.
What is President Biden doing? Considering phasing Title 42 out altogether. So far, he's continued enforcing it for adults, but not for children who arrive without their parents. No surprise here: Biden's change resulted in a massive surge of kids making the dangerous trek across the border. The number of children who crossed alone in July is expected to top 19,000—an all-time high.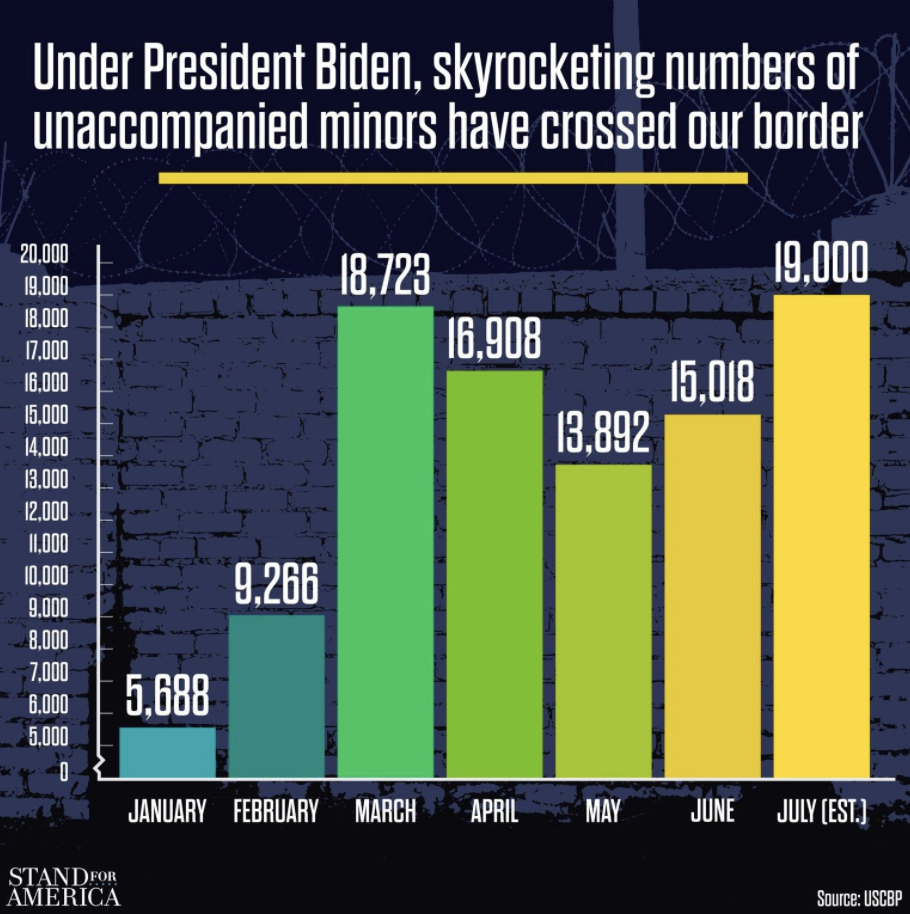 Biden's lax immigration policies have sent the wrong message and encouraged more migrant families to head for our borders. The asylum system is now backlogged with more than 1.2 million cases, and border agents are so overwhelmed that they've released about 50,000 asylum seekers into U.S. cities without giving them court dates. Biden is now trying to put a band-aid on his bad policies by speeding up the asylum process, but it's too little, too late. Plus, there's no telling how many migrants have slipped through illegally and avoided authorities. 
What is the far left doing? Encouraging Biden to stop using Title 42, even though the migrant surge still poses a major health threat. Last week alone, 1,500 COVID-positive migrants were released into just one Texas city. At the same time, Biden and the Democrats are pushing to grant amnesty to illegal immigrants in their next big spending bill. 
What are Republicans doing? Fighting for a better immigration system. GOP senators—including Sens. Shelley Moore Capito (R-WV) and Rob Portman (R-OH)—are urging Biden to keep enforcing Title 42. And border state Govs. Doug Ducey (R-AZ) and Greg Abbott (R-TX) have called on Biden to reinstate Trump's "Remain in Mexico" policy.
Our take: It's bad enough that Biden has failed to fix—or even acknowledge—a worsening immigration crisis. But changing a rule that would encourage even more people to flock to our borders is just plain dangerous. Memo to Biden: Protecting Americans and our border is your job. Just do it.
→ Read more: Over 19K unaccompanied children reportedly stopped at U.S. border in July (New York Post)
→ Read more: 24 House Republicans urge Biden to reject Dems' amnesty push in $3.5 trillion budget bill (Fox News)