Weekly Newsletter
December 11, 2021
What We're Standing For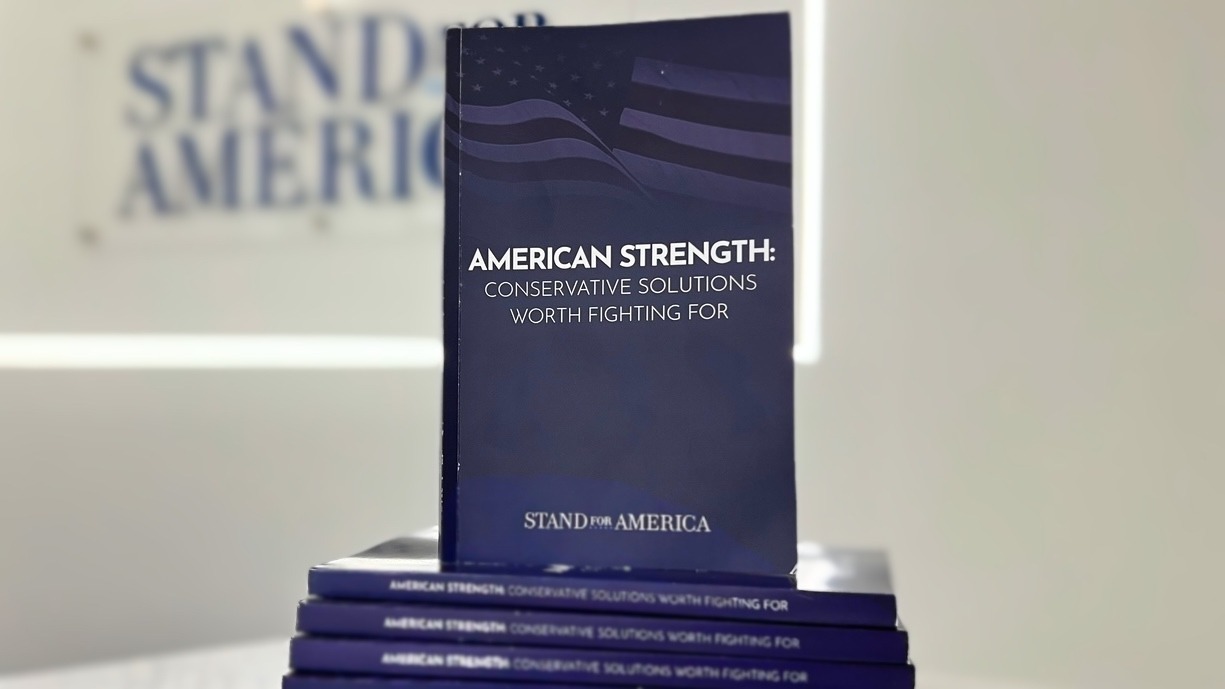 A conservative roadmap for America
The Democrats are taking America down a dangerous path. You've watched as their big-government policies have crippled our economy, endangered our communities, sidelined workers, and stripped freedom away from American families. Meanwhile, President Joe Biden is erasing our borders, going weak on dictators, and refusing to lead on the world stage. To protect liberty, safety, and peace in America, we must change course. Good news: America can return to the right path—by adopting conservative solutions that put American families first and prioritize our national security. Over the past few months, Stand For America has gathered bold ideas from conservative leaders about how to realign our country with the perfect principles on which it was founded. And we compiled their responses into a new policy book: American Strength: Conservative Solutions Worth Fighting For. With help from Nikki Haley and experts from every sector of American society, the Stand For America policy book lays out commonsense fixes to the most pressing problems our country is facing at home and abroad.

What do we need at home? Policies that protect Americans and empower them to meet their full potential. As Nikki says,
"The more than 330 million women and men and children who call America home are infinitely creative and capable of creating opportunities for themselves and their communities." – Nikki Haley
It's time to get government out of the way so Americans can control their own lives and shape their own destinies. It's also past time to restore pride in the founding principles that ground us in truth and set us up for a future of boundless opportunity.
Click on any of the pieces below to read about conservative solutions for the domestic challenges America faces: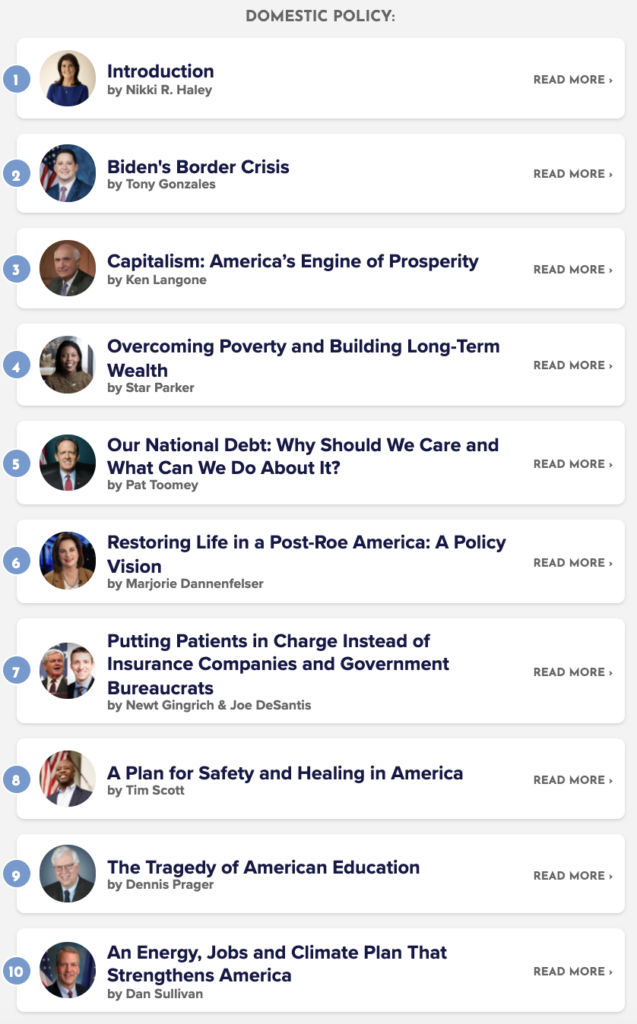 What do we need on the world stage? A strategy that restores American strength and leadership to combat mounting global threats. As Nikki warns:
"We're in the middle of a clash of civilizations. On the one side is freedom, embodied in America. On the other side is tyranny—brutal, barbaric tyranny. We face enemies who don't just want to defeat us. They want to destroy our way of life and bring the world back to the Dark Ages. " – Nikki Haley
There is only one right answer to this harsh reality: America must stand firmly against dictators—from Vladimir Putin to Xi Jinping to Iran's supreme leader—who are hurting people and crushing freedom. And we must stand confidently by our allies. If we don't, our enemies will continue taking advantage of Biden's weak foreign policy to spread tyranny around the world. It's time for Washington to make sure our military has the resources it needs to protect us. What's more, it's time for Americans to renew the moral will it takes to defend our free way of life. The world is watching.
Click on any of the pieces below to read about conservative answers to the foreign policy issues America faces today:
America is the freest, most prosperous nation on the planet. Our commitment to capitalism and innovation propel us past authoritarian regimes that shut down competition and free expression. Our faith in God grounds us in hope. And our liberty empowers us to promote smart ideas and elect people who are willing to enact those ideas into law. It's time for America to return to policies that lift all Americans up instead of tearing them down.
We'll let Nikki have the last word: "America is still the standard….America is worth fighting for….We are being called to prove ourselves worthy of the gift we've been given—the gift of being citizens of these United States."
→ Read more: American Strength: Conservative Solutions Worth Fighting For (Stand For America)
→ Read more: Nikki Haley's new book showcases 2022 conservative roadmap and vision for future of Republican Party (Fox News)