Big Tech
July 17, 2021
What We're Standing For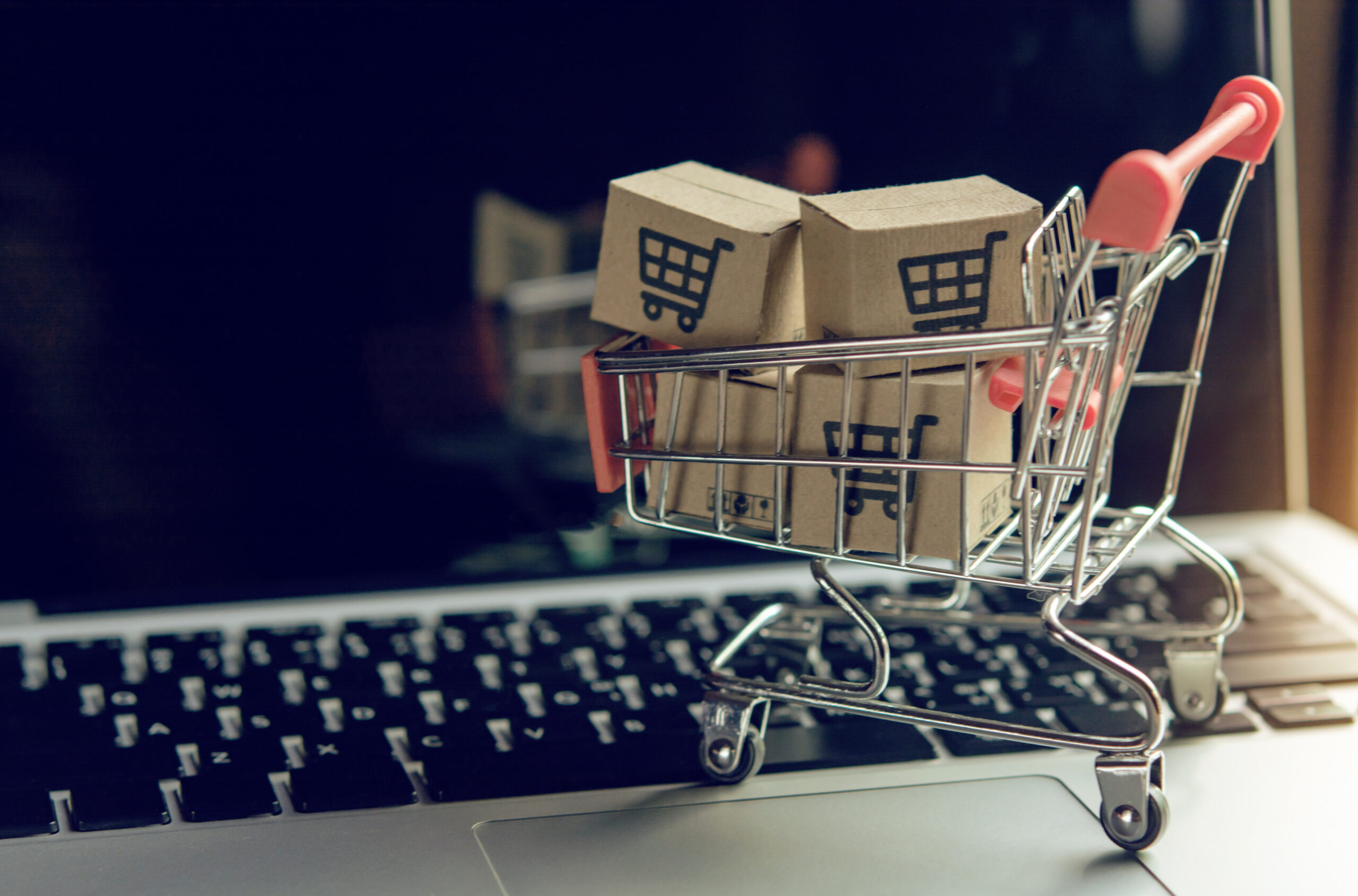 A free market with fair rules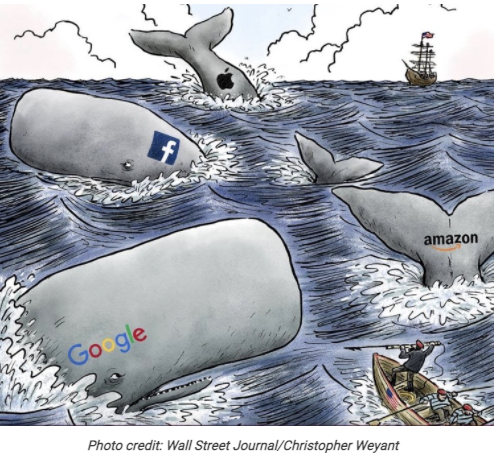 Quick summary: There are plenty of reasons so many Americans take issue with Big Tech. Obviously, conservative censorship is a huge one. There's also tech titans' abuse of power. We have rules on the books to discourage monopolies, but they're not always clear-cut. Now, members from both parties are pushing to update antitrust laws.
What's happening? Over the past several years, the federal government, states, and private companies have sued Big Tech giants like Facebook, Apple, Amazon, and Google. What for? They claim these corporations are building monopolies and unjustly pushing out the little guys. Just last week, 36 states and Washington, D.C., sued Google, claiming that the corporation unfairly controls how apps are sold and how much app creators are charged.
What are antitrust laws, and why were they created? The laws date back more than 100 years. Congress passed them to stop companies in major industries like railroad, tobacco, steel, and oil from building monopolies. A century later, some in Congress want to apply these old laws to new industries, like Big Tech.
Who enforces antitrust laws? The Department of Justice and the Federal Trade Commission work together to investigate companies for antitrust violations—such as illegal monopolies or anti-competitive behavior.
What's the problem? Antitrust laws are vague, archaic, and can have unintended consequences. For example, in 2012, the Obama administration sued Apple and five major book publishers to make e-books "as affordable as possible." Instead, Obama's team ended up wiping out Amazon's competition and helped solidify its monopoly—exactly the opposite of what antitrust laws are supposed to do.
What is Biden doing? Trying to give unaccountable government bureaucrats more control to micromanage companies. Last week, President Biden signed an executive order with 72 directives urging federal agencies to ramp up scrutiny of companies in many American industries, including healthcare, technology, banking, transportation, shipping, and…wait for it…chicken farming. Many of his proposed rules won't actually increase competition, but they will increase government meddling.
What are Republicans doing? Reps. Kevin McCarthy (R-CA), Cathy McMorris Rodgers (R-WA), and Jim Jordan (R-OH) introduced a plan to end the bureaucratic delays that make it harder to resolve antitrust disputes. They also want to give states more power to make sure Big Tech giants aren't abusing their power. Sens. Mike Lee (R-UT) and Chuck Grassley (R-IA) introduced a bill last month that would have one federal agency oversee antitrust enforcement instead of two.
Our take: Lawmakers should make sure small businesses have a level playing field to compete with the big dogs. A free market with fair rules is crucial for jobs, innovation, and our entire economy. But history shows that government "fixes" often break things further—even making powerful corporations more powerful. And liberal "solutions" often worsen the problem—giving government more muscle to target companies they don't like or agree with. Thankfully, conservatives are showing up and proposing solutions. A healthy economy requires a free market with fair rules. The so-called cure should never be worse than the disease.
→ Read more: Biden's anti-competitive 'competition' order (New York Post)
→ Read more: Conservatives step into the left's antitrust trap (National Review)
what we're standing against
Sneaky student debt cancellation
Quick summary: For months, liberals have been pushing President Joe Biden to cancel student debt. Instead of trying to pass legislation, they're using the pandemic to advance their "free college" demands—while American taxpayers foot the bill.
What's happening? At the height of the pandemic in March 2020, the Education Department temporarily froze interest and principal payments on most federal student loans. Even though the economy is rebounding, Biden extended the pause until October.
That's not enough for Democrats, who are pressuring Biden to extend the pause until next March or until employment reaches pre-pandemic levels—whichever takes longer. Biden has signaled some willingness to cave to the Democrats' demand.
Simultaneously, Democrats are renewing calls for Biden to erase $50,000 of debt for all federal student loan borrowers. And Biden has already called on Congress to forgive at least $10,000.
How many student borrowers owe the government? Nearly 43 million people owe a combined $1.56 trillion in student debt to the federal government. 
What's the problem? First, there's a hefty cost to taxpayers. Canceling 18 months of interest payments during the pandemic could cost taxpayers as much as $90 billion. Of course, that number will be much higher if liberals get their way and cancel loans entirely. Plus, it's unfair to force non-college goers and people who already paid off their debt to subsidize other people's pricey education choices—many of whom don't need the help. Finally, canceling student debt just encourages big universities to keep increasing tuition, because they know the government will bail out students.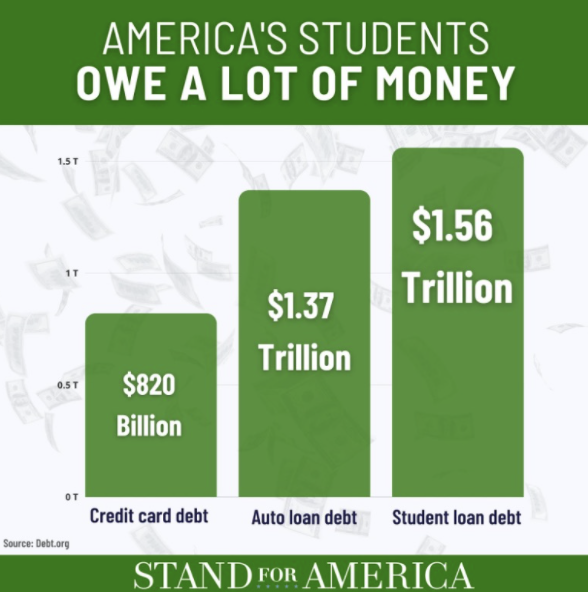 What are Republicans doing? Speaking out and proposing reforms. Sen. Richard Burr (R-NC) explained to Congress that the Democrats' plan to eliminate student debt would shift the burden "onto unsuspecting taxpayers" while "benefit[ing] the rich, mostly people who will already earn more because of their college education." In March, Sen. Burr reintroduced a bill aimed at simplifying and streamlining the increasingly complex federal student loan repayment process.
Our take: Rising student debt is caused by rising college tuition prices. Canceling student loans does nothing to solve that problem, and, arguably, makes the problem worse. It's also an unfair wealth transfer that makes working class Americans pay for other people's Harvard degrees. We're still waiting for liberals to explain how that makes sense.
→ Read more: Democrats' sneaky plot to 'cancel' student loan debt (Washington Examiner)
→ Read more: Warren pushes Biden to forgive student debt as White House considers his legal authority (CNBC)