Government spending
June 26, 2021
What We're Standing For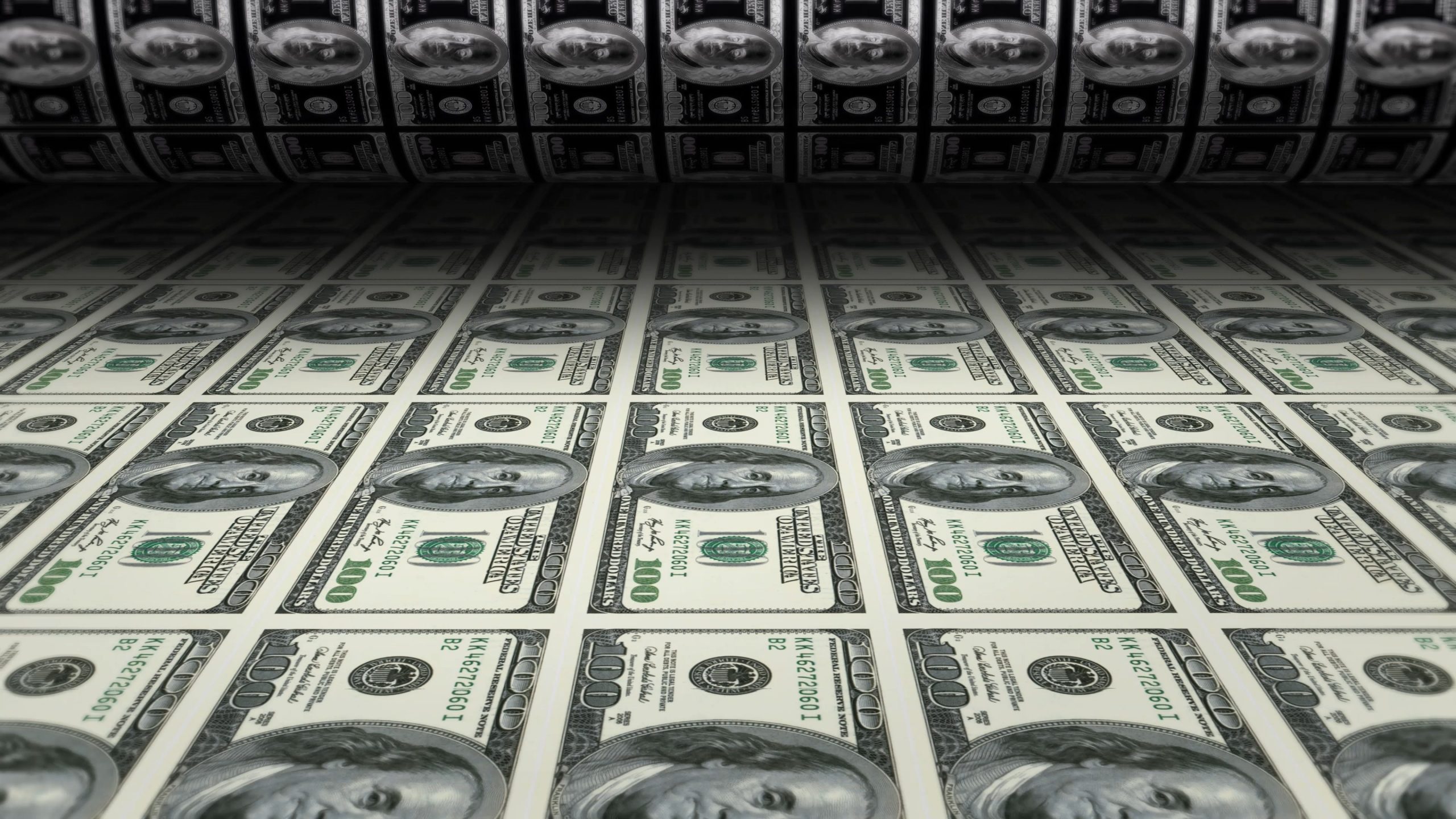 Strong American economy 🇺🇸 💵
Quick summary: Americans are already suffering from the short-term consequences of President Joe Biden's spending spree: soaring prices and a jobs crisis. But the long-term impact of Bidenomics is just as scary—especially as our once strong American economy endures unprecedented changes while the Federal Reserve is reluctant to respond. While Federal Reserve policy may not be the most exciting topic in the world, it's critical to understanding what's happening in our economy right now.
What is the Fed? The Federal Reserve, or the Fed, is America's central bank. Its job is to keep our economy stable as circumstances fluctuate. For example, the Fed often raises interest rates to keep prices from climbing or lowers rates to encourage people to invest and pay down their debts.
What's happening? Last year, as the COVID-19 pandemic torpedoed our economy, Fed officials chose to keep interest rates low and let inflation speed up. They hoped this would put more people to work and keep our economy afloat. All during the pandemic, the Fed poured hundreds of billions of dollars into the economy, even as the government pumped trillions of dollars into Americans' wallets through stimulus bills.
As the pandemic tapers off, our economy has gone into overdrive. Demand for everything from cars to couches to electronics to homes is through the roof. But businesses lack the supplies they need to keep up with demand, and inflation has soared to its highest level in more than a decade. Meanwhile, 9.3 million workers aren't working, even though there are plenty of jobs to go around. Add all this up and you get a recipe for an unpredictable economy that could boil over at any moment.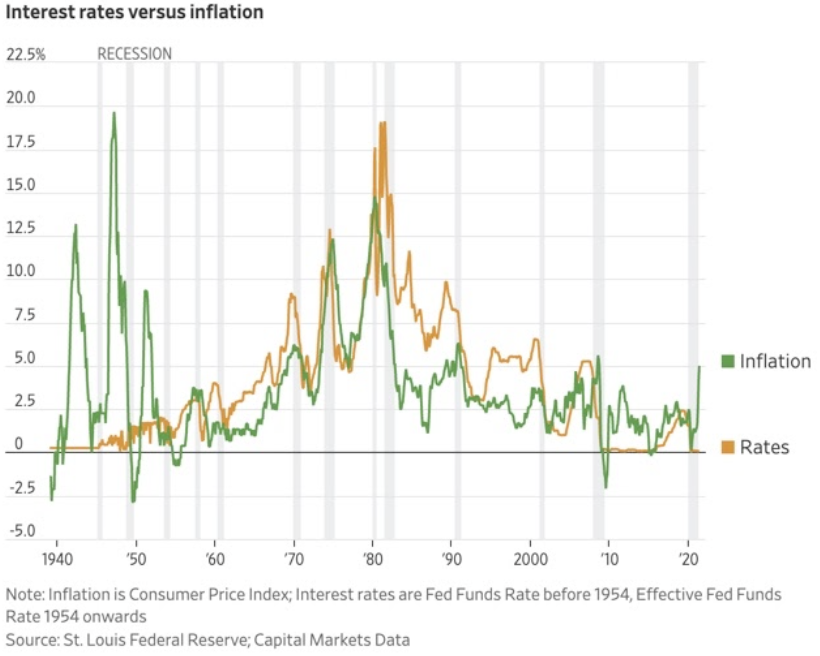 What are Biden and the Fed doing now? Despite these significant shifts, Biden is still pushing to spend trillions more. And even though Fed Chair Jerome Powell admitted last week that we're in an "extraordinarily unusual time," Fed officials haven't changed their plan to funnel more money into the economy. They're hoping that the current inflation is just "transitory."
But as the Fed urges everyone to stay calm and carry on, Americans fear inflation escalation is here to stay. That's why so many workers and businesses are already demanding higher wages and increasing costs.
Warning: This situation looks dangerously similar to what led to the 1970s inflation crisis. Heavy government spending on the Vietnam War paired with President Lyndon Johnson's welfare state expansion collided with the Fed's low interest rates. The economy overheated, and inflation skyrocketed. To stop prices from spiraling out of control, the Fed had to suddenly hike interest rates—as high as 18% for a 30-year mortgage—a move that sent our economy into a recession for more than a year.
Our take: Both the White House and the Fed have a role to play in making sure our economic situation doesn't spin out of control. Unfortunately, both seem reluctant to admit we have an inflation problem. In the worst-case scenario, Biden keeps the money spigots open while the Fed takes both hands off the steering wheel—a frightening combination that would mean deeper debt, higher costs, and more pain for all Americans.
→ Read more: Powell and the Fed are enabling Biden inflation (Market Watch)
→ Read more: House Republicans prep debt limit fight to 'force action on our nation's spending problem' (Fox News)
what we're standing against
Violent crime
Quick summary: Violent crime is on the rise in America's cities. With it comes more suffering and fear for American families, who feel less safe by the day. How did we get here? Over the past year, an explosion in murders, shootings, and robberies coincided with an increase in anti-police hostility, police budget cuts, and lax enforcement of the law.
What's happening? Crime in America steadily dropped from 1993 through 2019. But last year, a new wave of violence flooded America's cities. Our country saw more than 20,000 murders—a 25% increase from 2019.
Democrat-led cities have experienced some of the worst violence:
The violent trend continued in 2021: Murders in major U.S. cities are already 24% higher this year compared to last. Too often, innocent bystanders are caught in the volley of bullets. Last week, a shooter in the Bronx gunned a man down on the sidewalk, barely missing two kids. Their father implored: "Please stop this wave of delinquency on our streets. It's a miracle my kids are alive."
​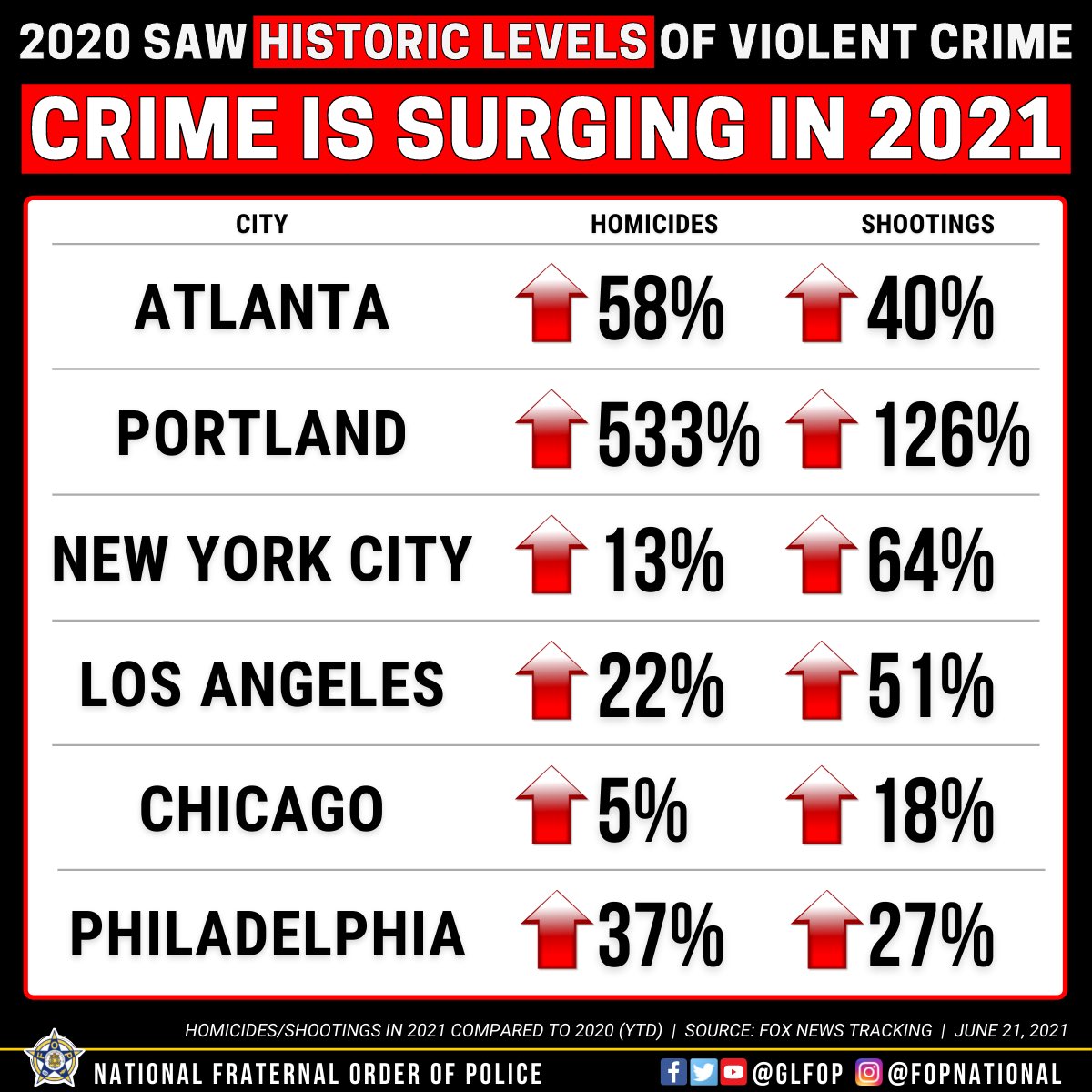 Why is this happening? Several reasons, but let's start with the police. Over the past year, the "defund the police" movement has destroyed police morale. Police officers in Seattle, New York City, Portland, Louisville, Minneapolis, Chicago, Asheville, and other cities have fled the force in droves. More than 5,300 New York City police officers retired or filed for retirement—that's 15% of the entire force and a 75% increase from 2019. In Asheville, NC, about a third of its police force quit or retired.
Liberal prosecutors are also emboldening criminals by refusing to prosecute them. New York has practically encouraged crime by ending preventive measures like cash bail.
What are Democrats doing? Blaming crime on Republicans, poverty, and guns. In a speech on Wednesday, Biden used guns as a scapegoat for the increase in violence. Atlanta's Democrat mayor blamed the violent surge on the easing of COVID restrictions. Maya Wiley, a Democrat mayoral candidate in New York City, pinned the root cause on a lack of investment in housing and education.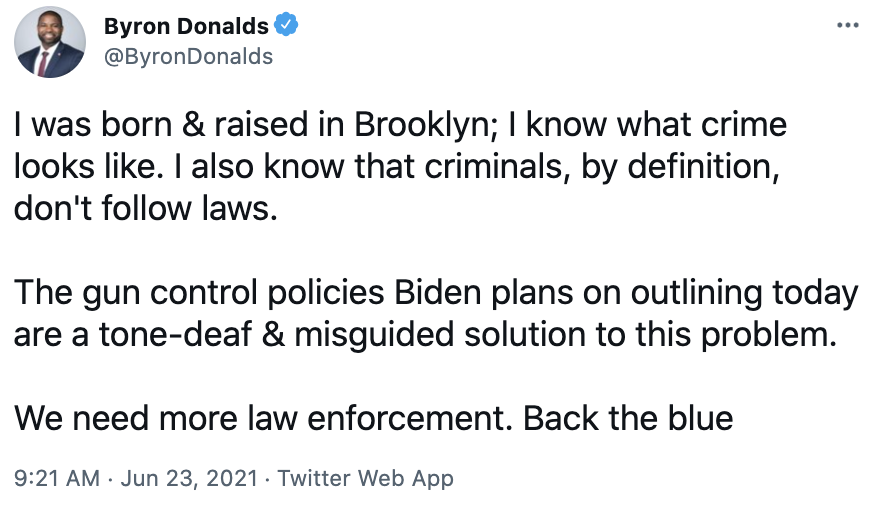 What are Republicans doing? The GOP has been warning about the crime explosion for a year now. And state lawmakers are taking action. Republicans in New York introduced several anti-crime bills this month. In 34 states, GOP lawmakers are pushing bills to crack down on unlawful rioters, including a Minnesota law that would cut off state financial aid for anyone convicted of a crime while protesting.
Our take: All Americans have a right to public safety. Families should be able to walk through their neighborhoods without fear of attack. Kids should be able to ride their bikes to school free from threats. Lawmakers who have the power to help restore law and order on the streets need to act now. American lives depend on it.
→ Read more: Biden's unserious crime proposal (National Review)
→ Read more: Biden says cities should spend leftover COVID funds on hiring cops (New York Post)