Israel
May 15, 2021
What We're Standing For
Israel
Quick summary: The terrorist group Hamas is attacking Israel. This comes after President Joe Biden reversed Donald Trump's Middle East policies—emboldening terrorists and their supporters—and sent the dangerous message that America won't stand with our allies.
​
What's happening? Last week, Palestinians threw stone slabs and fireworks at Israelis from the Al Aqsa Mosque on the Temple Mount in Jerusalem. Terrorist leaders encouraged the clashes. The Palestinian Authority's leader, Mahmoud Abbas, declared his support for the violence, and Iran's Supreme Leader extolled the "pure blood" of the Palestinian "resistance martyrs."
This week, Hamas (a group funded and supplied by Iran) heightened the violence by launching a full-on assault. The terrorist group has fired 1,800 rockets from Gaza toward Israel, with many targeting its capital, Jerusalem, and others targeting civilians in Israel's second-largest city, Tel Aviv.
Israel's military forces are defending their sovereign state and citizens against the terrorist attacks.
How we got here: Biden's obsession with reversing all of Donald Trump's Middle East policies has emboldened Hamas and Iran. Biden restored U.S. aid—without conditions—to the Palestinians and to the broken UN agency that spreads anti-Israel propaganda. He's also bending over backward to reenter the dangerous nuclear deal with Iran—terrorism's top funder—and has offered to lift sanctions Trump imposed on the regime. The message is clear: Biden is weak, and it's time to test him.
Biden's backward policies are endangering our ally. As Amb. Nikki Haley said, these attacks against Israel "would stop today if Biden said Hamas needs to stand down."

What are Biden's far-left allies doing? Far-left Democrats are basically supporting the terror campaign by spreading anti-Israel propaganda. Representative Ilhan Omar (D-MN) condemned the Israelis as terrorists, even though they're defending themselves from a terrorist attack. Representative Alexandria Ocasio-Cortez (D-NY) faulted Israel for "inflicting violence." And Senator Bernie Sanders (I-VT) joined the chorus by blaming the conflict on "right-wing extremists."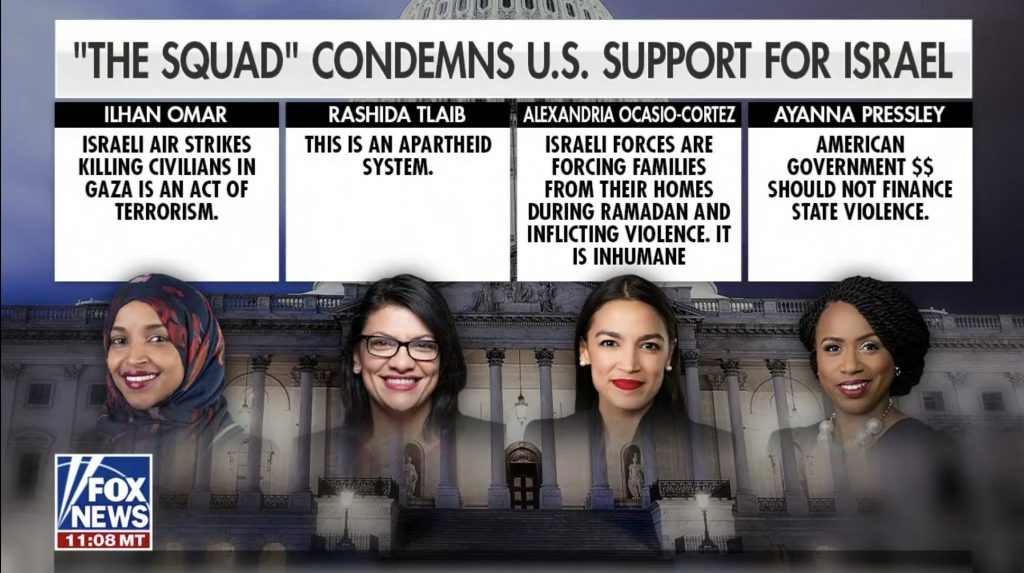 What are Republicans doing? Republicans have put stronger pressure on Biden to do the right thing by standing firmly with Israel and cutting off funding for Israel's and America's enemies. On Wednesday, 44 Republicans called on Biden to stop negotiating with Iran and refuse to give the regime sanctions relief. And Senator Marsha Blackburn (R-TN) introduced legislation to slash funding for Hezbollah, a terrorist organization that wants to annihilate Israel. 
By restoring Obama's flawed Middle East policies, Biden is sacrificing the security of Israel and America.
→ Read more: Biden has emboldened Israel's enemies (National Review)

→ Read more: Democratic Party leaders urge Biden to rejoin Iran deal, lift Trump's 'bad-faith sanctions' (The Hill)
what we're standing against
Biden's anti-recovery unemployment handouts
Quick summary: President Joe Biden and the Democrats have broken America's unemployment benefits system. In the name of pandemic relief, they've made benefits so generous that they hold back economic recovery—hurting small businesses and workers in the process.
What's really happening? Biden and the Democrats' "stimulus" bill sends jobless workers an extra $300 check each week, on top of the money they already get from state programs. This nearly doubles the money that the average unemployed worker receives. The result: Many who receive both state and federal benefits earn more staying home than they'd earn working a full-time job.
Why is this bad? Biden's jobless benefits have created a hiring crisis in America. When people make more sitting at home than they do working, they have no reason to find a job.
First and foremost: This hurts the unemployed. They're missing the chance to get back on their feet and climb the ladder of opportunity. Not to mention, long-term unemployment raises risks of physical and mental illness, family stress, skills loss, and poverty.
What about business? Small businesses are especially damaged, and so is the economy as a whole. Companies are desperate to hire and put the pandemic behind them—there were a record 8 million job openings in March. But fewer than 300,000 people were hired last month—significantly fewer than expected. A record 42% of business owners reported job openings they couldn't fill. When employers are short on employees, they struggle to keep the doors open. Take it from these business owners:
What else do you need to know? Biden has admitted that America has a hiring problem, but he denies that his unemployment handouts have anything to do with it. Instead, Biden's using the poor jobs numbers to justify spending $4 trillion more in taxpayer dollars for his "infrastructure" and social welfare packages. His team is also claiming that the low jobs report is reason to continue the federal unemployment plus-up.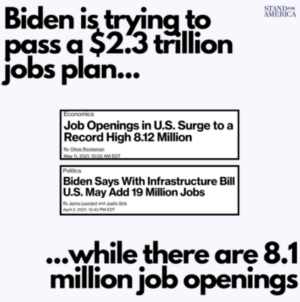 Could things get worse? Absolutely. These extra federal benefits are set to expire this September, but Senate Majority Leader Chuck Schumer (D-NY) and Democrats want more. Last month, nearly 40 congressional Democrats, including Senators Bernie Sanders (I-VT) and Ron Wyden (D-OR), sent a letter to Biden pressuring him to make this unemployment insurance permanent. Not only that: They proposed adding more benefits and widening the pool of eligibility, so even more people can receive the handouts.
How are Republicans responding? By putting American workers and businesses first. GOP governors in more than a dozen states are canceling Biden's extra unemployment benefits. Reports indicate that these governors' actions may already be helping get people back to work. Other states like Arizona and Vermont have pledged to start requiring jobless workers to provide proof that they're job hunting before they receive federal benefits.
Our take: We're already seeing the toll that Biden's excessive spending is taking on American families, workers, and job creators. Beyond the hiring crisis, prices for many items have jumped faster than we've seen in over a decade. A different approach is desperately needed. Get America back to work. Get spending under control. Get America on a path to real recovery.
→ Read more: Weak jobs report shows limits of 'stimulus' (National Review)

→ Read more: Biden's American Rescue Plan unemployment-benefit extension making it difficult to find workers, employers say (Fox News)