Government spending
November 13, 2021
What We're Standing Against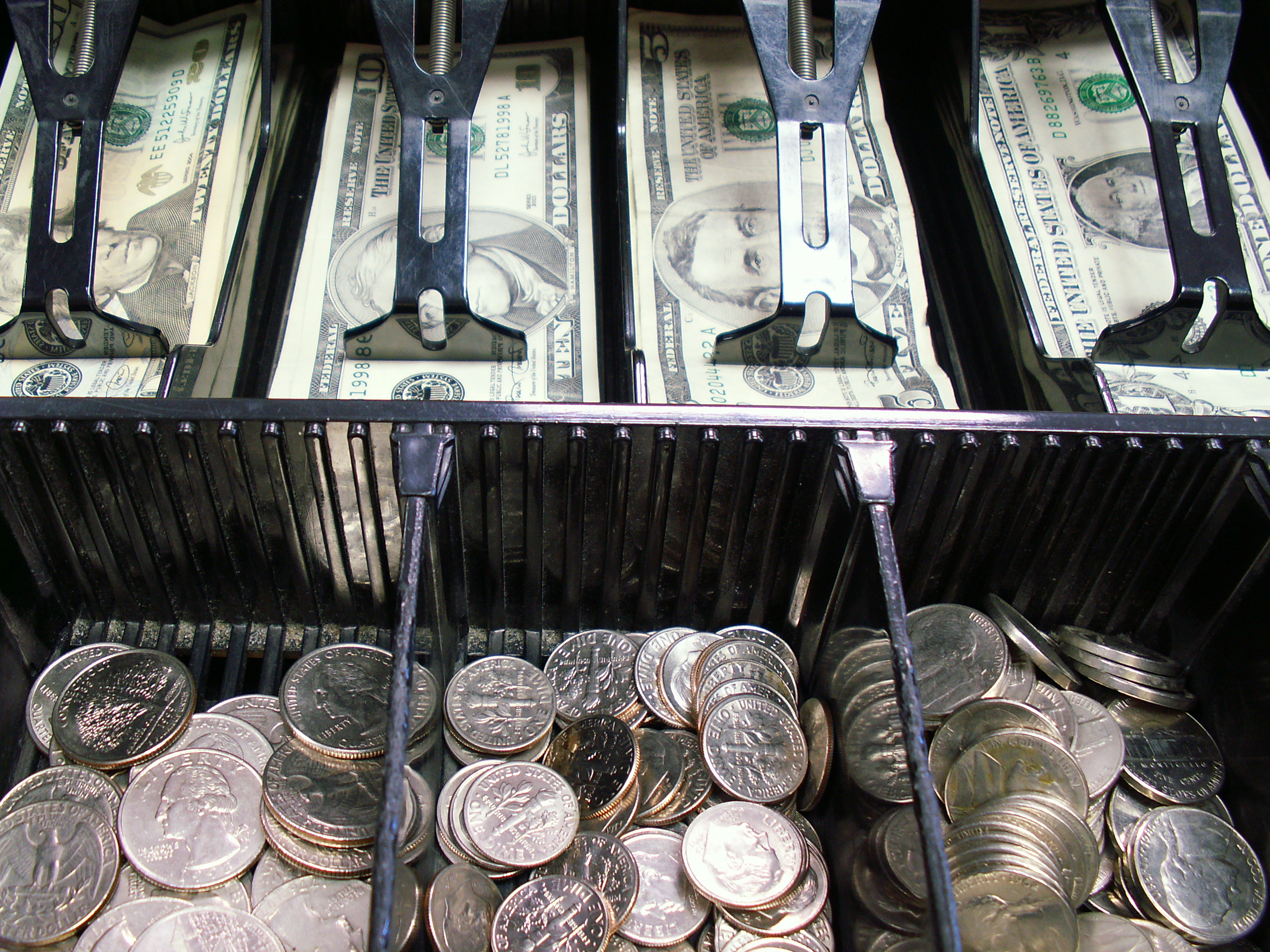 A costly holiday season 🦃 🎄
Quick summary: Prices are still rising as America's families brace themselves for a monstrously expensive and costly holiday season. Yet President Joe Biden and the Democrats are relentlessly pushing to spend trillions more taxpayer dollars on their far-left spending plans.

What's happening? A new report released on Wednesday shows that prices jumped faster last month than they have in over 30 years—by 6.2% compared to last year.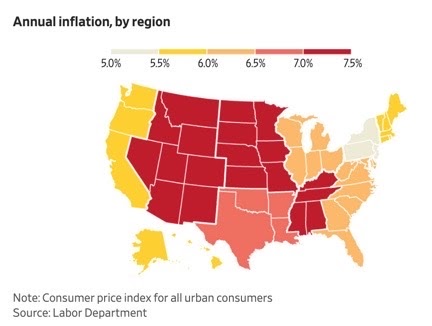 So many of the important activities that help make the holiday season rich and meaningful—from traveling to gift-giving to eating—will be much harder for American families to afford this year.
Let's start with eating. Is your family cooking up a turkey, mashed potatoes, buttered rolls, or apple pie for Thanksgiving? What about a Christmas ham in December? All of this costs more under Bidenomics. Even staples like milk, bread, and eggs are more expensive this year than last.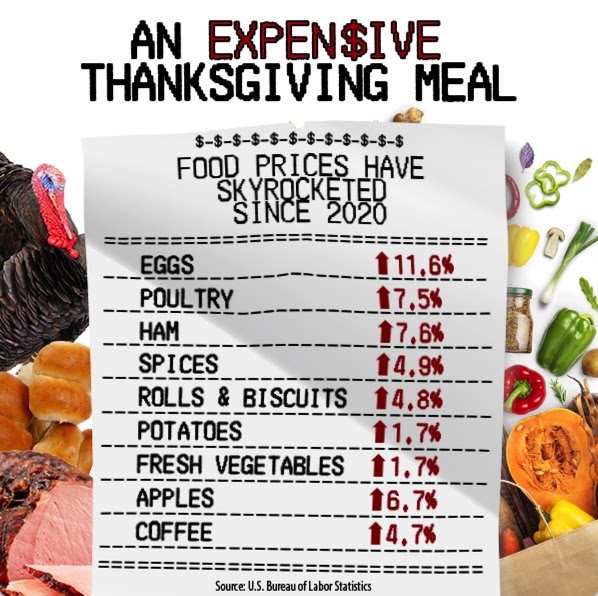 Who is planning a trip to visit family in other parts of the country in the coming weeks? You've seen prices at the gas pump shoot way up, but did you know Americans are paying about $1.25 more per gallon this year than they were last year? Hotel rooms are 25.5% more expensive. And airlines are warning that they'll be hiking ticket prices soon because fuel prices are so high.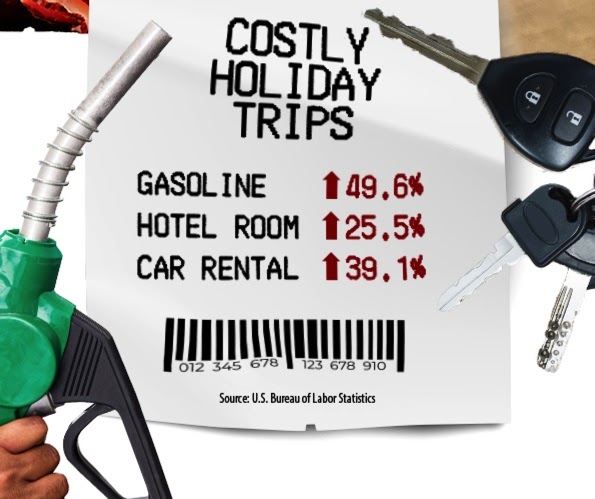 Are you hoping to have lots of gifts under the Christmas tree this year? Many of the presents people often buy for their loved ones—from televisions to clothing to bicycles to musical instruments—cost more this year.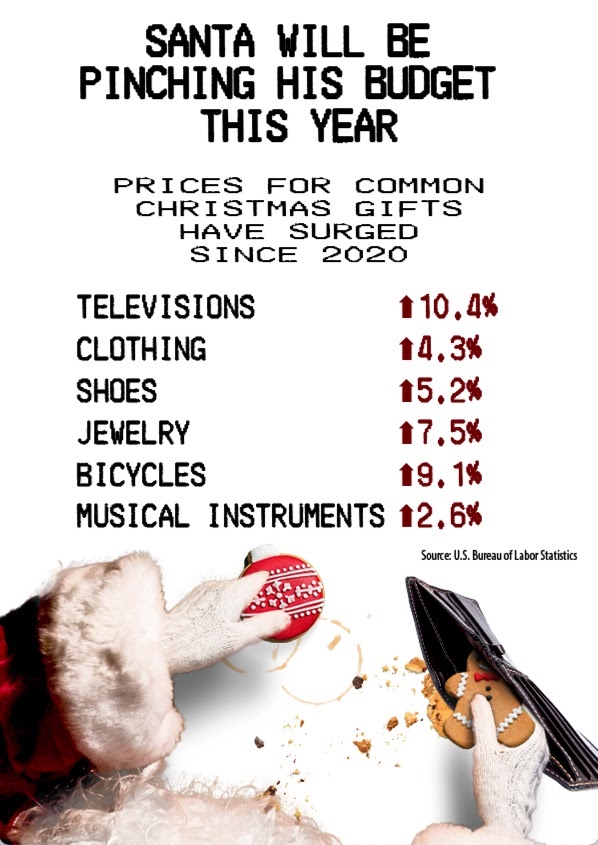 And last but not least, as we head into the winter months, Americans are facing skyrocketing heating bills. As the chart below shows, whether you heat your home with propane, oil, natural gas, or electricity, your bills are going up this winter.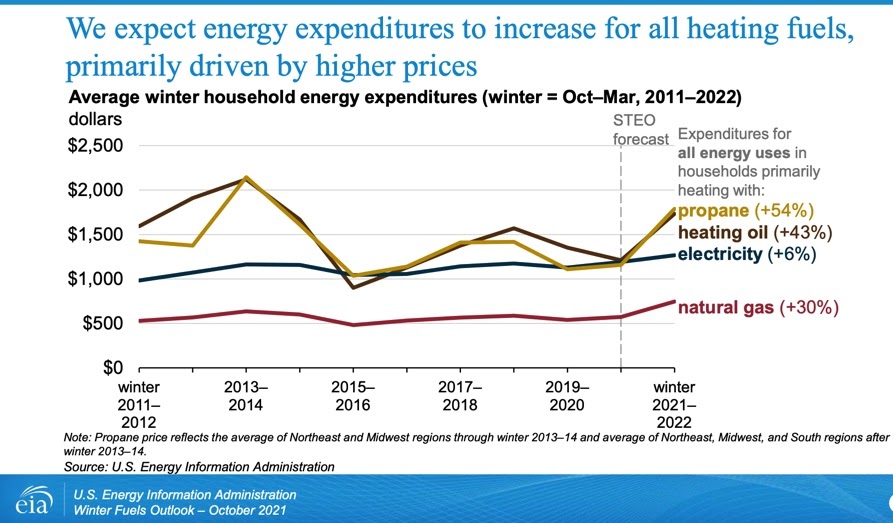 One more thing: Workers' wages aren't keeping up with the price increases. Compared to last year, earnings are down 1.2% overall, thanks to inflation. To put this into perspective: Let's say your salary rose 3% this year. Because inflation rose 6.2%, your wage actually dropped 3.2%. Basically, you have less money in your wallet.
What is Biden doing? Spreading falsehoods and presenting nonsolutions. On Wednesday, he said stopping inflation is a "top priority" of his. Yet he continues denying reality by claiming his plan to spend trillions more taxpayer dollars on socialist policies will "ease" inflation.
Our take: Inflation has jumped higher every single month since Joe Biden became president—in tandem with the Democrats' passing trillions more dollars in spending. America's families, workers, and businesses have endured a year and a half of extraordinary hardships during a pandemic. Now, they're facing a supply chain crisis, a worker shortage, and oppressive vaccine mandates. The least Biden and the Democrats could do this holiday season is not threaten to push prices higher with another multi-trillion-dollar spending spree.
→ Read more: Heavy burden for consumers as holidays near: soaring prices (U.S. News)
→ Read more: Inflation has taken away all the wage gains for workers and then some (CNBC)
Supporting our military
Quick summary: One of our government's most basic responsibilities is protecting America from foreign threats. Right now, Democrat leadership is disregarding this crucial duty—all for the sake of their socialist spending plans. Not only is their negligence emboldening our enemies and demoralizing our allies. It's putting all Americans in more danger.
What's happening? Time is ticking away as Sen. Chuck Schumer (D-NY) keeps delaying a vote on the National Defense Authorization Act (NDAA). What is the NDAA? A bill Congress has passed every year since 1961 that authorizes defense spending and details which military programs receive taxpayer dollars.
The House already passed its version of the NDAA in September, after the Senate Armed Services Committee approved its version in July. The Senate package includes important provisions to help combat growing threats from Russia, Communist China, terrorists, and other U.S. enemies. For example, it would increase our military presence in the region surrounding China. It would also boost the defense budget by about $35 billion—a move Squad members like Reps. AOC (D-NY) and Cori Bush (D-MO) have opposed for months.
The Senate bill is ready to go. All Schumer needs to do is bring it to the floor so senators can debate and vote on it. But so far, he's refused. Why? He's been too busy helping the far left advance its multi-trillion-dollar socialist spending bill.
What's the problem? This is only the third time in U.S. history that the Senate has held off finalizing its version of the NDAA until this late in the year. Usually, the Senate passes its bill by at least September 30. Until the bill gets to the floor, senators can't debate the hundreds of amendments they've already submitted for consideration—like a GOP measure to stop the U.S. from recognizing the Taliban, another to impose more sanctions on Russia, and others to combat a potential Chinese invasion of Taiwan.
What are our enemies doing? Strengthening their militaries while Democrat leadership threatens to kneecap ours. China, North Korea, Russia, and Iran are all expanding their nuclear arsenal. Last week, the Pentagon said China now has the world's largest navy. It might surpass the U.S. in artificial intelligence technology by 2031. And it's building dummy U.S. warships—probably to use for target practice. The Pentagon recently reported that ISIS and Al Qaeda could be powerful enough to attack America within a year or two. Last month, Iran helped launch a drone attack on U.S. troops in Syria. Russia and Iran are both buddying up to China. We could go on, but the point is: It's time for lawmakers of every stripe to get serious about securing our country.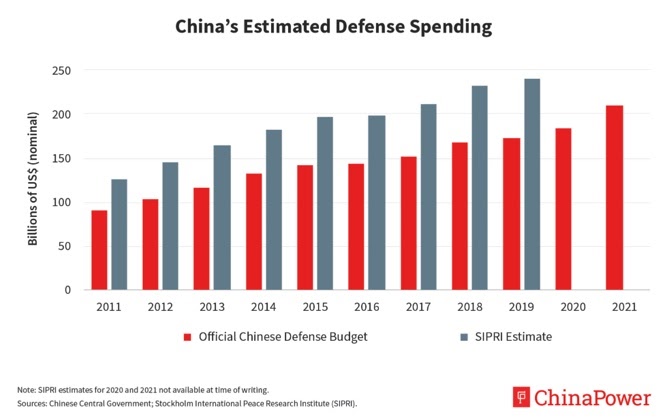 What are Republicans doing? Last week, more than a dozen GOP senators called on Schumer to bring the NDAA to the floor for a vote. We'll let them tell you why:
Schumer's delay is so egregious that even one Democrat—Rep. Adam Smith (D-WA)—admitted last week that he's "extraordinarily frustrated" with the Senate's procrastination. He said, "I can't argue with the Senate Republicans on this issue. There is no reason that this bill has not been put on the floor in the Senate." When Smith reached out to Schumer's office to ask for a status update on the NDAA, he was essentially told, "Leave us alone; we'll get to it when we get to it."
Our take: No excuses. When our leaders don't show they're serious about defending America, they send terrible signals to 1.) our enemies—who won't hesitate to take advantage of any weakness; 2.) our allies—who need to know we'll stand by them; and 3.) our troops—who need assurance that we'll prioritize getting them the resources they need to serve. By procrastinating the NDAA's passage, Schumer is jeopardizing our national security.
→ Read more: GOP blasts Schumer for 'dereliction of duty' as defense spending package sits in Senate (Fox News)
→ Read more: Communist China builds mockups of major U.S. warships at new target range complex: satellite images (Daily Wire)